Wimbledon Junior Tennis Initiative
The Wimbledon Junior Tennis Initiative (WJTI) is the All England Club's junior tennis programme. Although better known for The Championships, the All England Club (AELTC) has become a leader in community tennis.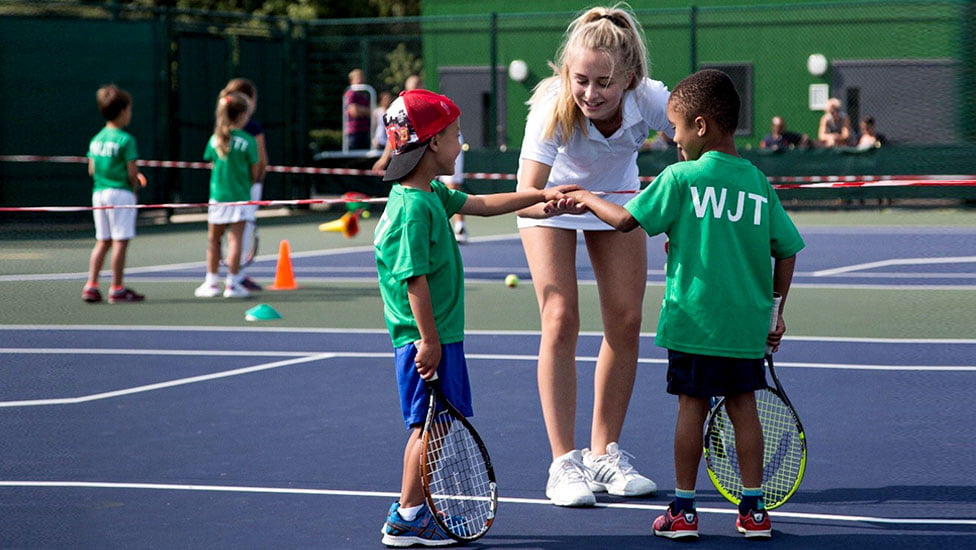 The coaching team from The All England Lawn Tennis Club visit schools in Merton and Wandsworth throughout the year to deliver tennis lessons and invite juniors to the Community Tennis Centre, Raynes Park, for coaching. The coaching team works with Foundation and Key Stage 1 classes to introduce them to good sporting habits, while teachers are encouraged to participate and are shown how to structure and deliver sessions within the constraints of their school environment. Children learn not only how to play tennis but the life-skills and values sport brings such as teamwork, discipline and fairness.
The WJTI aims to maximise the potential of its members as both tennis players and young people and show how participation in sport can develop life skills and offer exciting opportunities.
Case study - Jack Lane
Jack Lane was 11 years old when the WJTI visited Liberty Middle School in Mitcham.
An initial weekly coaching session at the All England Club quickly accelerated to four coaching sessions a week and Jack being picked for the WJTI squad.
Soon, Jack began helping to coach younger WJTI players and, together with support from charity Give It Your Max, Jack achieved his Level 3 coaching qualifications.
Today, the WJTI part-funds Jack to go into Mitcham schools for a six week period to offer support to teachers and give children the opportunity to play tennis.
I didn't know what life held for me before joining the WJTI but, once I started to play within the grounds of Wimbledon week in week out, it was so amazing that it convinced me to commit to tennis..

I cannot thank the WJTI enough for what they have done for me.

They have given me some unbelievable experiences which have changed the course of my life, and for which I will always be grateful